Posted July 29, 2020
T-Rex Double Sided Super Glue Tape
Shurtape Technologies announced the addition of T-Rex Double Sided Super Glue Tape to its portfolio of next generation, high-performance tapes.
---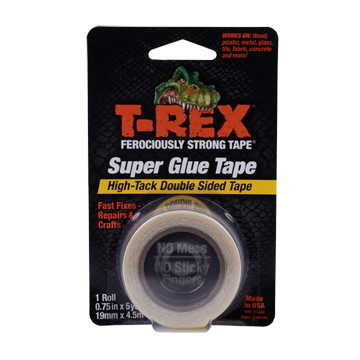 A necessity for on-the-go contractors looking for an easy, mess-free replacement for traditional liquid glues, T-Rex Double Sided Super Glue Tape instantly adheres to surfaces without staining them and it won't bond to skin. Plus, the tape won't dry out over time. Effortless to store, convenient to carry and always ready to use, T-Rex Double Sided Super Glue Tape is a safe and fast toolbox staple for busy contractors in need of a permanent mounting solution or for quick repairs on all types of surfaces.
It provides an extreme level of adhesion and instant tack. The aggressive acrylic adhesive on both sides of a thin polyester film backing provides a near-invisible bond to a variety of surfaces, including concrete, metal, wood, tile, glass, plastic, ceramic and fabric.