Snap-on Dog Box rolling tool box
The new Dog Box from Snap-on Industrial is a rolling tool box that makes moving tools across a hangar, tarmac or facility a breeze.
---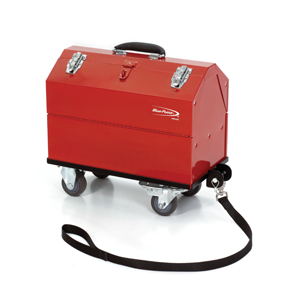 Available in three sizes, these Dog Boxes allow technicians to load up all the necessary tools into a tool box that's positioned onto a frame with casters, and pull it out to the jobsite.
Technicians choose the handle that feels best on small and medium Dog Boxes: either an interchangeable hard steel wagon-style handle that keeps the box from wandering or nipping at their heels, or a soft nylon leash. Larger Dog Boxes come with the hard steel wagon-style handle with a swivel feature that allows for comfortable pulling position while a spring-loaded action keeps the handle in the upright position when the box is at rest.
Features and benefits of the new Dog Box include:
Rubber wheels for a smooth and quiet ride along with maximum shock absorption
Tool box can be removed from the rolling chassis for stationary storage on a bench or roll cab for easy accessibility
Lifting handles for safe and easy lifting of the tool box out of its chassis for use on an elevated surface
Front lid folds under top lid to create a convenient, flat work surface while still allowing access to the drawers on large dog box models
Available models:
KRDB18 – small Dog Box with interchangeable handle; length 18"; width 10"; height 13 1/4" (Blue Point)
KRDB24 – medium Dog Box with interchangeable handle; length 24"; width 12"; height 12" (Blue Point)
KRDB265 – large Dog Box with five drawers and wagon handle; length 26"; width 14 3/4"; height 17 1/4" (Snap-on Industrial)
KRDB269 – large Dog Box with nine drawers and wagon handle; length 26"; width 14 3/4"; height 17 1/4" (Snap-on Industrial)