Snap-on Compression Fitting Repair Tool
Snap-on Industrial announced the launch of its new line of innovative Compression Fitting Repair Tools for repairing damaged threads on compression tube fittings.
---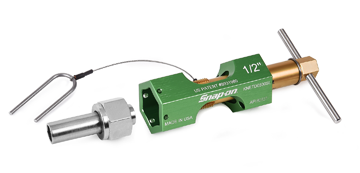 Developed for aviation, oil and gas, power generation, and other critical industries, these innovative tools provide a simple, efficient, and cost-effective solution to a common and expensive problem.
Traditionally, cross-threaded or damaged threads have often required the replacement of entire sections of tubing, resulting in complex repair procedures and diminished productivity. Snap-on's Compression Fitting Repair Tools feature a uniquely designed holder and hollow bore tap, which easily align the tool to all major brands of swaged two-ferrule compression fittings. This allows effortless repair of both internal and external fitting threads. In most cases, the repair can be performed by one person, and with the tubing in place, eliminating the need for costly and time-consuming tubing replacement.
To view a demonstration video of the tools in action, please click on this link.
The Compression Fitting Repair Tools are available in the following sizes, and are color-coded for quick and easy identification at the worksite:
Stock number KNETD0250SL; 1/4" Tap and Die Kit
Stock number KNETD0375SL; 3/8" Tap and Die Kit
Stock number KNETD0500SL; 1/2" Tap and Die Kit
Stock number KNETD0625SL; 5/8" Tap and Die Kit
Stock number KNETD0750SL; 3/4" Tap and Die Kit
Stock number KNETD1000SL; 1" Tap and Die Kit