Snap-on digital torque checker
A torque wrench is only as good as its accuracy, which is why the new 25-250 Ft. Lb. range Digital Torque Checker from Snap-on Industrial is a must for every shop.
---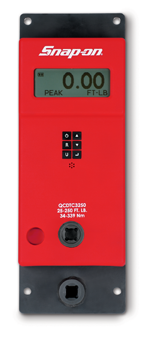 The Snap-on Industrial Digital Torque Checker (model No. QCDTC3250) is a cost-effective and easy method for technicians to test the accuracy of both mechanical and electronic torque wrenches any time. It's designed to test both 1/2" drive torque wrenches, as well as 3/8" drive with the included adapter, and can be mounted on a wall or in a bench-top vice for optimal access.
Features of the new 25-250 Ft. Lb. range Digital Torque Checker include:
Three primary torque check functions:

Track
Peak Hold
First Peak

Range:

25 to 250 foot pounds (34 – 339Nm)

Highly accurate: +/- 1% CW and +/- 1% CCW, 10% to 100%
Large, easy-to-read backlight LCD display
Tough, composite housing with integrated 3/8" adaptor storage
Adjustable auto shutoff
CE approved
Long working life with three AA batteries included, or optional AC or DC adapters
Mounting hardware included