Posted June 1, 2020
Cordless Torque Multiplier from Snap-on Industrial
The new Cordless Torque Multiplier (CTM) from Snap-on Industrial is a heavy-duty tool capable of delivering between 250 and 3,000 ft-lb of torque.
---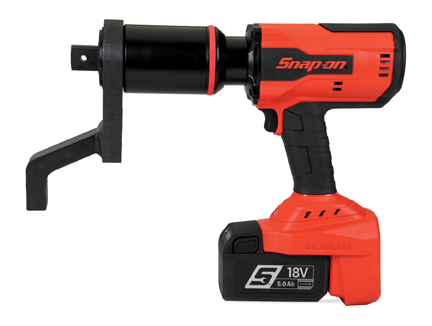 The CTM is ideal for the power generation, oil and natural gas, railroad and other critical industries, or anywhere power isn't available or elimination of hoses and cords makes for a safer workplace.
The CTM is a transducer-controlled, battery-powered torque tool designed for applying torque with an accuracy of +/- 3%. The tool employs "intelligent joint sensing" technology that continually measures the joint during tightening and, when necessary, deploys dynamic braking to avoid torque over-shoot due to motor inertia.
The ability for tools to talk to PCs or other devices is a critical asset to have in monitoring performance, reducing the potential for errors. The CTM allows two-way communication via Bluetooth for live streaming data from the tool, and it can save and download up to 3,000 time- and date-stamped readings via USB cable. Conversely, information can be sent back to the CTM, such as tightening sequences, to aid the technician. Data can be output in CSV format to communicate directly with an end user's own data management system.
Additionally, the CTM can communicate with many smart devices, such as mobile phones and tablets, which enables the ability to send tightening specifications from handheld devices and store torque results on the cloud. This is helpful when working in critical and remote applications, such as railroad infrastructure, where the CTM can provide invaluable error proofing and traceability functionality.
Supplying steady power to remote job sites is another challenge technicians in these critical industries face. The cordless CTM removes the need for on-site generators, which isn't an ideal power source as it can produce major fluctuations in voltage. Going cordless also declutters the workplace of trailing cables and hoses.