Snap-on impact rated hex drivers
Snap-on Industrial says it once again outperforms the competition with its new two-piece Impact Rated Hex Drivers.
---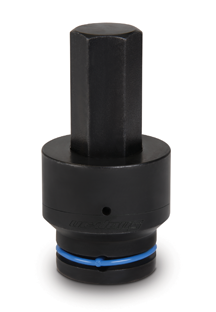 Manufactured from a special alloy steel and heat treated for optimum strength and durability, the Impact Rated Hex Drivers are engineered with precise fit and tight tolerances to prevent slippage and disengagement.
The Impact Rated Hex Drivers are designed for use with pneumatic or cordless impact guns. The two-piece design surpasses one-piece models, making replacement economical and convenient. Additionally, the bits can be easily replaced by hand; no need to put them in a vice and punch them out with a hammer. Freeing up time and enhancing on-the-job safety is always Snap-on Industrial's objective, and with this new line, it has provided technicians with one more tool to accomplish that goal.
The Impact Rated Hex Drivers include optional retaining rings for added protection, ensuring positive attachment to the anvil. Snap-on's new Impact Rated Hex Drivers specifications:
Part Number Size Drive
IMFAM12 12mm 3/8"
IMFAM14 14mm 3/8"
IMFA16 1/2" 3/8"
IMFA18 9/16" 3/8"
IMSA20 5/8" 1/2"
IMSA22 11/16" 1/2"
IMSA24 3/4" 1/2"
IMSA28 7/8" 1/2"