Posted November 11, 2020
Snap-on Industrial MRO Pro Tool Set
All the maintenance, repair and operations (MRO) tools users need housed in a right-sized roll cab are now available for order with a single part number from Snap-on Industrial.
---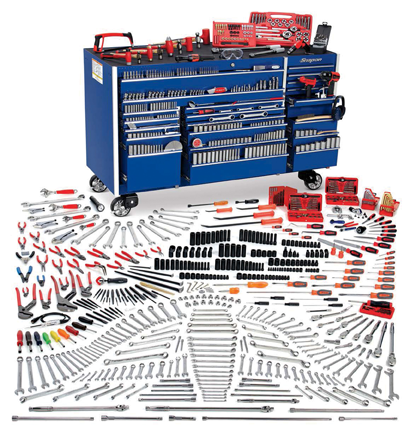 The Industrial MRO Pro Tool Set comes with more than 500 tools specifically selected for the industrial maintenance, repair and operation industries. Snap-on Industrial teamed up with MRO industry professionals to design this all-in-one set, which includes the tools you need you need as a professional technician to perform your work safely and efficiently.
The set includes a variety of hand, power, structure, torque, inspection and safety tools including:
• Ratchets
• Wrenches
• Flank Drive sockets
• Flex sockets
• Pliers
• Reversible wire twisters
• Impact ratchets
• Drills
All the tools are housed in an Algona, Iowa-manufactured 54" 11-Drawer Double-Bank Master Series Roll Cab, which comes with foam cutouts for tools for visual tool control, an added to safety feature provided by this set. The roll cab's extra-wide drawers feature four bottom stiffeners to support a full load of tools without sagging. Sets can be ordered with access control to provide the roll cab with a higher level of security.
Roll cab with foam
• ITKPLUSRAY (red)
• ITKPLUSBAY (black)
• ITKPLUSBLAY (blue)
Roll cab with foam and access control
• ITKPLUSRAC (red)
• ITKPLUSBAC (black)
• ITKPLUSBLAC (blue)