Posted May 21, 2019
Southern Glove offers leather customization
Industrial glove manufacturer Southern Glove Inc. is now offering customized printing for its industrial leather gloves.
---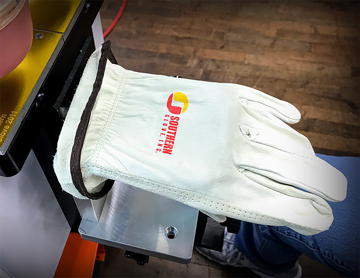 "Imprinting leather gloves is an excellent way to enhance brand recognition for your company," said Brent Fidler, president and CEO of Southern Glove. "Our printing option creates the opportunity to add our customers' logo, message, or image to further promote their brand."
Gloves may be imprinted in up to two colors with an economical, one-time set-up fee and a very low printing cost. Now through Aug.1, 2019, Southern Glove is offering an introductory, free set-up fee and per dozen pricing on orders of 15 cases or more with discounted pricing offered on orders of 10 cases or more.
Southern Glove is a family-owned and -operated industrial glove manufacturer headquartered in Newton, North Carolina. Southern Glove provides top-quality industrial work gloves, hand and arm protection products, and industrial aprons to customers throughout the United States since 1945.