Posted March 18, 2020
Stabila Type 80 Spirit Level
Stabila has added a new 8-inch model to its range of tried-and-tested Type 80 AS spirit levels.
---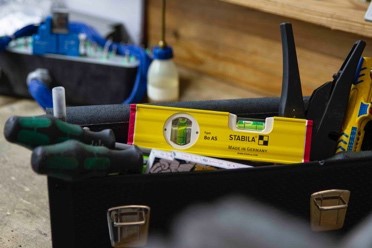 The new model is ideal for use in cramped conditions and will fit into any toolbox thanks to its compact dimensions.
When it comes to quality and precision, the short version is every inch the equal of the longer standard model. Its aluminium rectangular profile still features reinforcing ribs for high stability and a secure grip when in use in the field. The anti-slip stoppers integrated into the impact-resistant plastic end caps ensure a firm hold when marking and prevent the spirit level from slipping. Both measuring surfaces are coated to protect sensitive surfaces. The electrostatic powder coating ensures easy cleaning and means that dirt from construction sites can be removed in no time.
The two measuring surfaces on the Type 80 AS make for precise measurements in any position. Measuring accuracy is ±1/32" @ 72" in the normal position and ±3/64" @ 72" in the reverse position. As is the case with all other Stabila spirit levels, the vial is cast permanently into the profile by means of a special procedure to ensure lifelong precision. This also prevents the vial from coming loose if the spirit level is dropped.