Posted August 20, 2019
Starrett salutes Made in America
The L.S. Starrett Company recently released a special-edition brochure that heralds the company's history and commitment to American Made quality and innovation.
---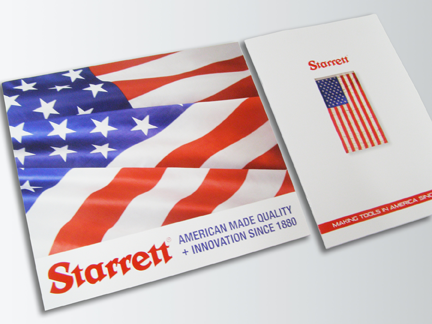 The attractive,18-page brochure includes overviews of Starrett's five U.S. manufacturing facilities where thousands of Starrett precision tools, metrology systems, gages, shop tools and saw blades are made. An introduction from Douglas A. Starrett, overview of the company's key competencies, photos of skilled employees, and a complimentary, laminated pull-out Starrett / U.S.A. flag poster are also included.
"Spanning most of our storied 139-year history, Starrett has been and still is, a global company. But the hallmark of Starrett quality and innovation is rooted in America," said Douglas A. Starrett, president and CEO. "And so it is today, where the lion's share of Starrett tools are manufactured. True to our tradition, we are committed to skilled, dedicated American workers and making tools in the United States of America."
The printed brochure with a laminated U.S.A. pull-out flag poster is available free by request online at www.starrett.com/american-made. In addition, a digital flip-book of the brochure can be viewed at the same link.