Posted October 3, 2018
Starrett digital gages
The L.S. Starrett Co. introduced its DFC and DFG Series of Digital Handheld Force Gages.
---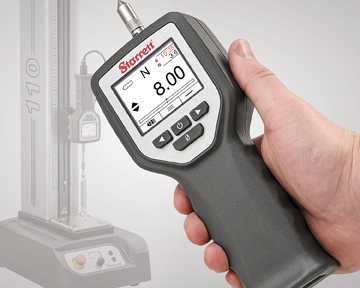 Depending on the series, advanced automatic testing can be attained with the DFC Force Gage controlling a Starrett FMM Digital Force Tester, or basic testing can be performed using the DFG gage.
The Starrett DFC and DFG Digital Force Gages are part of the new Starrett L1 line of entry level digital force measurement solutions. Optimized for production and quality control testing, the versatile, innovative architecture of the Starrett L1 system is designed for fast, easy-to-use, reliable and repeatable operation. Click here to view a video and request a brochure.
Starrett DFC and DFG Digital Force Gages feature an easy-to-view high-resolution OLED color backlit display and auto-off function. A primary and secondary window shows test results, and out-of-tolerance results display in red. A simple multi-function keypad has softkeys that are programmable to the users' most repetitive functions.
Adjustable sampling rates help capture peak loads, and filters can be applied to peak and display values. The Starrett L1 Digital Force Gages' battery life provides over 30 hours of continuous operation and have a USB port for transmitting data to a computer. The gages have a cast aluminum housing with a comfortable grip design for handheld testing, and a metric threaded top post enables screw-on attachments and clevis adapters that fit hundreds of Starrett test fixtures.
"Whether for simple, basic economical testing via handheld gaging, or more advanced testing when mounted on our L1 stands, our innovative Digital Gages provide the ultimate solution in force measurement versatility," said Emerson Leme, head of Metrology Division at Starrett.