Posted December 21, 2020
Starrett launches DataSure 4.0
The L.S. Starrett Co. announced the introduction of DataSure 4.0, an advanced wireless data collection system for acquiring precision measurement data.
---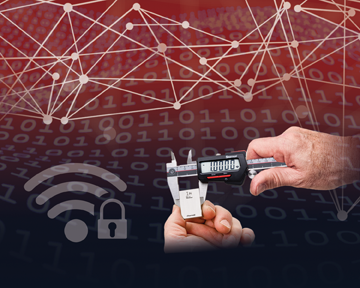 With unprecedented range and data security, multiple gateways, compact size and high speed, Starrett, a forerunner in the development of data collection solutions for quality control manufacturing applications, claims the system has taken data acquisition to a new level. "Using the very latest technology, our new DataSure 4.0 system enables manufacturers to leverage digital manufacturing for Industry 4.0 by reliably utilizing measurement data to the fullest extent," said Mr. Emerson Leme, Vice President, Industrial Products, North America at Starrett.
The new Starrett DataSure 4.0 System operates on the latest wireless networking technology that uses short-wave radio frequencies to interconnect cell phones, computers and wireless electronic devices, enabling much faster speed, greater bandwidth and longer range for higher data throughput. The range of DataSure 4.0 is ten to twenty times that of any data collection system on the market. "With DataSure 4.0, data can be transmitted literally hundreds of yards, which is ideal in larger manufacturing operations or multiple facilities," notes Mr. Jeffrey Wilkinson, Director of Research and Development at Starrett.
DataSure 4.0 features higher bit rates and a very high-speed connection of less than 50ms of data travel time, and has an ultra-low latency network that enables high data volumes to be processed without delay, even at full capacity. Users of DataSure 4.0 can versatilely utilize multiple gateways which serve as central or distributed points for data collection, versus conventional systems that have only one gateway. The compact new gateways and repeaters can easily fit in the palm of a hand.