Streamlight ProTac HL 3
Streamlight introduced the ProTac HL 3, a high lumen (HL) light that delivers 1,100 lumens of bright white light.
---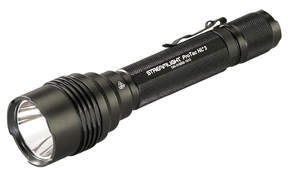 Designed for operations requiring maximum illumination, the programmable, lithium battery-powered flashlight is the brightest addition yet to the company's series of HL (High Lumen) lights.
"The ProTac HL 3 uses the latest in power LED technology to provide wide, sweeping scene lighting," said Streamlight Vice President, Sales and Marketing, Michael F. Dineen. "One of the brightest tactical lights available in its size, it's the perfect carry light for tactical users when clearing scenes; for outdoor enthusiasts when navigating a dark trail; or for industrial workers when flooding a work area with light. At the same time, the ProTac HL 3 goes the distance with its strong, focused beam."
The new light uses a C4 LED to deliver 1,100 lumens, and 36,000 candela over a beam distance of 379 meters on the high setting. On low, the light offers 35 lumens, 1,200 candela and a beam distance of 69 meters. The light also offers a strobe mode.
The ProTac HL 3, powered by three (3) 3-volt CR123A batteries, features a multi-function, push-button tail switch that permits one-handed operation. The light's TEN-TAP programmable switch allows users to select from high/strobe/low (the factory default); high only; or low/high. Its run time both on high and in strobe mode is 1.5 hours, while the run time for the low setting is 36 hours.
Fabricated from machined aircraft aluminum, the ProTac HL 3 is 7.10 inches in length and weighs 9.3 ounces. The light has an IPX7 rated design for waterproof operation to one meter for 30 minutes, and is impact resistance-tested to one meter. It is packaged with a removable pocket clip and holster.