Posted March 2, 2022
Streamlight PolyStinger LED HAZ-LO
Streamlight launched the upgraded PolyStinger LED HAZ-LO® , a rechargeable, intrinsically safe flashlight that uses a Nickel Metal Hydride (NiMH) battery for longer run times, and offers an enhanced output of 260 lumens.
---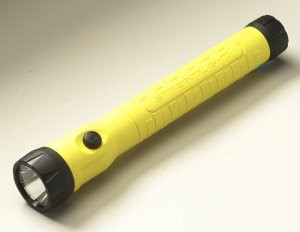 The new model is suitable for use in Class 1, Division 1 hazardous environments faced by many industrial and fire professionals.
"When it comes to working in dangerous environments, the new PolyStinger LED HAZ-LO is the light to reach for," said Michael F. Dineen, Streamlight vice president, sales and marketing. "In addition to providing extreme brightness, it uses a Nickel Metal Hydride battery for longer run times, and features Class I, Division 1 safety ratings so you can safely have light in hazardous atmospheres and environments such as petro-chem, utilities, and other heavy industrial applications. And it also offers the convenience and cost savings of rechargeability."
The new model uses a high power LED to provide 260 lumens and 16,000 candela for five hours on the high setting, and 80 lumens and 5,700 candela for 16 hours on low. The PolyStinger LED HAZ-LO also has a moonlight mode, allowing for 20 days of continuous run time.
Constructed of super-tough, non-conductive chemical and corrosion-resistant nylon, the light offers an unbreakable polycarbonate lens with a scratch-resistant coating. It features a camshaft style grip and is equipped with a multi-function, head-mounted electronic pushbutton switch designed for extremely long life.