Streamlight PolyTac polymer flashlights
Streamlight updated the brightness and design of its popular PolyTac and PolyTac HP polymer flashlights.
---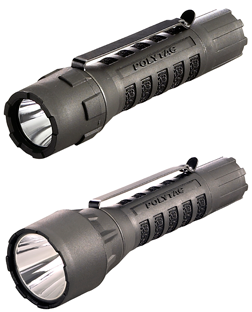 Each light features a power LED that delivers up to 275 lumens and an improved grip, as well as a programmable switch that gives users the choice of three operating modes.
Their compact size, combined with their strong, tough polymer casing and high light output make both models ideal carry lights for first responders, outdoor enthusiasts and industrial professionals alike. Both lights now offer three settings (high, low and strobe) and include TEN-TAP programming that allows user selection of three different programs: high/strobe/low (factory default); high only, or low/high.
The all-purpose PolyTac is designed for the broadest range of lighting applications to offer the best value. Its C4 LED and parabolic reflector produce a concentrated beam with optimum peripheral illumination. On high, the light delivers 275 lumens and 9,500 candela over a beam distance of 195 meters.
The PolyTac HP is engineered to provide enhanced down-range illumination. It combines a C4 LED with a deep reflector to produce a far-reaching, targeting beam with a tight spotlight, in addition to optimum peripheral illumination. On the high setting, it provides 275 lumens and 19,000 candela over a beam distance of 275 meters.
The new models offer 3 hours of run time on high, up to 65 hours on low, and 5 hours and 30 minutes in strobe mode. Both are powered by two (2) 3 Volt CR123A lithium batteries.
Manufactured from high-impact, super-tough nylon polymer, the lights have been updated to include a superior grip texture to provide a comfortable, yet slip-resistant feel. Both feature a multi-function, push-button tail switch for easy, one-handed operation of the momentary, variable intensity or strobe modes.