Posted March 22, 2017
Streamlight ProTac HL USB headlamp
Streamlight Inc. enhanced its popular HL (High Lumen) family of tactical lights by adding a hands-free, USB rechargeable solution, the ProTac HL USB Headlamp.
---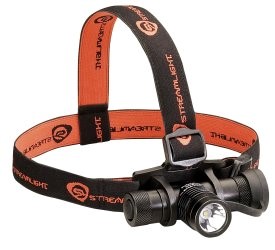 The high-powered, yet lightweight, area light provides up to 1,000 lumens and 20 hours of run time, while letting users charge it on the go from most any USB power source.
The new headlamp delivers bright light in a wide, sweeping beam, making it ideal for illuminating an entire area, including what may be hidden along perimeters and in corners. The light also comes equipped with a flood filter that diffuses the beam for close-up work. The ProTac HL USB Headlamp features a USB port that offers convenient recharging.
"The ProTac HL USB Headlamp combines the benefits of high lumen technology along with USB rechargeability and battery backup into a convenient, hands-free headlamp," said Streamlight Vice President, Sales and Marketing, Michael F. Dineen. "With its amazing brightness, long run times and other great features, it's a great choice for first responders, outdoor enthusiasts and industrial professionals alike."
Powered by a white LED, the ProTac HL USB Headlamp provides three lighting modes. Its high setting provides a super-bright beam, delivering 1,000 lumens and 13,500 candela over a distance of 232 meters, with a run time of 1.5 hours. The light's medium setting offers bright light (400 lumens and 5,400 candela, 147-meter distance) and a longer run time of 2.45 hours. The low setting offers a less intense beam (65 lumens, 900 candela, 60-meter distance) and an extended run time of up to 20 hours.