Streamlight ProTac HL
Streamlight Inc. introduced the ProTac HL, a high lumen light that delivers 600 lumens and 16,000 candela peak beam intensity.
---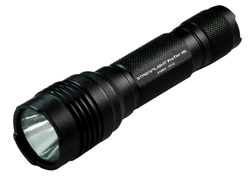 Designed for maximum illumination applications, the new light is Streamlight's first programmable, handheld, lithium battery-powered flashlight.
"With its extraordinary lumen light output, the ProTac HL is designed for flooding an area with light, such as when illuminating a dark alley, vehicle, job site, or outdoor path, while still delivering a strong, focused beam," said Streamlight Vice President, Sales and Marketing, Michael F. Dineen. "The combination of its high lumen output and small size make it Streamlight's brightest, most convenient, personal carry light."
Featuring Streamlight's new TEN-TAP programming, the ProTac HL enables users to select among three programs to suit their preference or operating needs: high/strobe/low (the factory default setting); high only; or low/high. In addition to its high lumen light and candela output, the ProTac HL provides a run time of one hour and 15 minutes and a beam distance of 253 meters on the high setting. On the low setting, the light delivers 33 lumens and 800 candela over a beam distance of 57 meters, and 18 hours of runtime. The strobe setting provides 2.5 hours of continuous run time.
The ProTac HL features a C4 LED that is impervious to shock with a 50,000 hour lifetime. The light is fabricated from 6000 series machined aircraft aluminum with an anodized finish, and includes a convenient multi-function, push-button, tactical tail switch. This tail switch provides easy, one-handed operation of the light's momentary, variable intensity, or strobe modes.
The ProTac HL measures 5.40 inches in length and weighs 5.6 ounces. It features an anti-roll face cap and a removable pocket clip for attachment to a vest, belt, or pocket. The light also has an IPX7 rated design for waterproof operation to one meter for 30 minutes.