The Siege lantern from Streamlight
Streamlight Inc. introduced a streamlined, compact version of The Siege lantern, the Siege AA.
---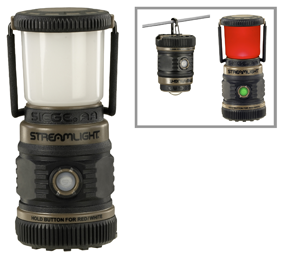 The cordless LED lantern, which uses easily sourced AA alkaline batteries, is ideal for a wide variety of outdoor, safety, and do-it-yourself applications. Weighing about half a pound, it also is easy to carry and store.
The Siege AA features one white C4® LED and two red LEDs to provide five output modes. The new lantern has a polycarbonate, glare-reducing globe cover that makes it comfortable to use in close quarters without impacting vision, providing 360 degrees of soft, even light. With the cover removed, the lantern also can be used to illuminate large areas, either by standing it upright or hanging it upside down using the light's bottom D-ring for easy attachment. The lantern will float when its globe cover is in place.
"We designed the Siege AA to give outdoor enthusiasts, professionals, and consumers an even more compact and lightweight lantern option. It offers all the functionality of the original Siege lantern for camping or hunting trips, performing jobs around the house, or for when the power goes out," said Streamlight Vice President, Sales and Marketing, Michael F. Dineen.
The lantern, which uses three "AA" cell alkaline batteries, weighs just 8.8 ounces with batteries (not included), and is 5.44 inches tall. Its white LED features High, Medium, Low, and Off output modes, while its red LEDs provide High, SOS, and Off settings. Users can easily change the light beam color or output modes by depressing and holding the on/off button for short sequences. The recessed power button prevents users from turning the light on or off accidentally.
With the cover removed, the white C4 LED delivers 200 lumens on High, 100 lumens on Medium, and 50 lumens on Low. The red High setting provides 0.7 lumens and the red emergency setting flashes at "Red high lumen level."