Superior Manufacturing Superfoam Plus floor mat
Superior Manufacturing Group introduced the new and improved Superfoam Plus anti-fatigue floor mat.
---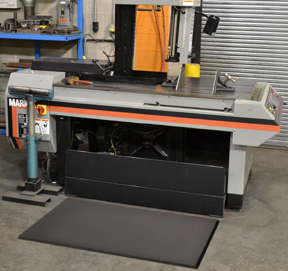 Based on the existing Superfoam product, the new Superfoam Plus with its full ¾" thick softer material is the latest in high-performance anti-fatigue floor mats from Superior, taking comfort and ergonomic support to the next level.
Superfoam Plus is made from a unique PVC/Nitrile rubber foam blend that offers greater resistance to a variety of chemicals, cutting fluids, greases, oils and animal and vegetable fats. Foam anti-fatigue floor mats have traditionally been used in dry environments only; however, the high-density materials in Superfoam Plus incorporate millions of tiny closed cells that won't absorb liquids. In addition, all sizes are available in perforated versions to facilitate the removal of liquids and debris from the work surface, making Superfoam Plus the perfect mat for use in light wet applications as well. An aggressive pattern on both the top and bottom of the mat creates an anti-slip surface while minimizing mat movement. Beveled edges on all 4 sides reduce trip hazards.
This anti-fatigue mat is ideal for applications where workers are required to stand for long periods of time such as reception counters, cashiers stations, assembly lines, packaging areas, and laboratories. Superfoam Plus is extremely lightweight and designed for use in areas where mats are regularly moved for cleaning such as cooking lines, service counters and food prep stations. It's easy to clean with a mild degreaser or hose spray and is even dishwasher safe. Non-allergenic, Silicone free compound and proudly made in the USA.