Swanson Tool GripLine tape measure
Swanson Tool unveiled a new tape measure under its premium Savage brand that grips round surfaces.
---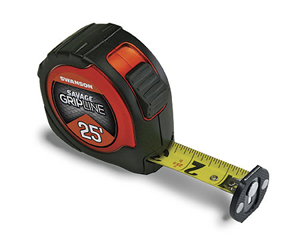 It features a patent pending rotating tip that is specifically designed to hold rounded edges up to 2-inches in diameter, such as metal conduit, rebar, threaded rod, PVC and black iron pipe.
With the ability to catch, hold and measure multiple types of materials, the new GripLine tape is ideal for plumbing, electrical, builder and carpenters, framing pros and DIY enthusiasts.
A slotted groove in the innovative, pivoting head allows the oversized 1-3/8-inch tip to slide seamlessly toward an object, thereby extending the tape's gripping range and strength. In fact, this free-moving tip makes the GripLine the industry's only tape measure capable of extending up to 1-inch of additional surface area and holding force toward any edge or endpoint.
With the 360-degree hooking capability, this new tip design gives contractors' maximum control when drawing the tape against an object, making the tape feel more like an extension of their arm than a hand tool.
"This multi-function, magnetic and pivoting tip is what makes the GripLine tapes a truly innovative solution for builders, contractors, plumbers, electricians, carpenters and DIYers," says Loren Doppelt, Director of Product Development and Marketing for Swanson Tool Company Inc., a pioneer in layout, leveling and measuring tools since 1925.
"Combined with an 8½-foot standout and pivoting magnetized tip design, the GripLine tape saves time spent securing conventional measures by allowing the user to grip multiple types of surfaces – such as metal conduit, rebar, threaded rod, PVC pipe – from a significant distance."