Titan PowrCoat Series sprayers
Titan has expanded its PowrCoat air-powered sprayer line with three new models outfitted with 10-inch motors: PowrCoat 1045, PowrCoat 1064, and PowrCoat 1072.
---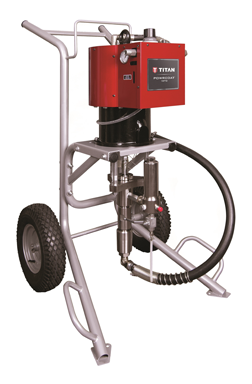 Packed with power to handle the largest jobs with ease, they apply highly viscous protective coatings for cold-applied roofing, corrosion control, fire proofing, waterproofing and marine applications.
Designed for dependable, efficient material application with low maintenance, PowrCoat Series sprayers easily handle application of today's low VOC, high solids and abrasive coatings. The new 10-inch high volume models have operating pressures ranging from 4,500 to 7,200 PSI, and flow rates between 2.6 and 4.0 gallons per minute. For portability around any job site, they feature large pneumatic tires and a heavy-duty crane hook.
All PowrCoat Series sprayers feature Titan's proven fluid section design with self-adjusting, spring-loaded packings. This means from the first time the trigger is pulled, to the thousandth time the trigger is pulled, the sprayer will be performing at its best. PowrCoat Series sprayers also come standard with premium features such as complete FRL (air filter, regulator, lubricator) and fluid filter.
"Our new 10-inch PowrCoat sprayers are for large jobs that require the highest flow rates," said Chris Noto, product director for Titan. "They are rugged, high productivity units that are built to last, providing twice the life and half the maintenance of other sprayers in the category."