Titan RX-PRO Airless Spray Gun
Titan is redefining airless spraying with the introduction of the revolutionary RX-PRO airless spray gun.
---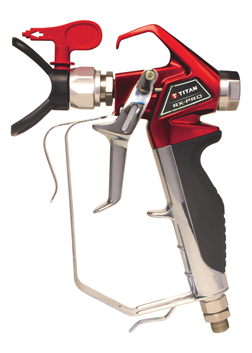 One of the most innovative airless guns offered today, the RX-PRO is a premium spray gun rated for 3,600 PSI that provides unmatched comfort, durability and convenience to paint contractors.
The RX-Pro is built with ergonomic features that enable paint contractors to spray longer with more comfort than ever before. The RX-Pro decreases operator fatigue with the lightest trigger pull in its class, requiring 30 percent less force than the closest competitive gun. The FingerPrint Grip® has three interchangeable grip sizes, making it possible to customize the grip to fit any paint contractor's hand size. The RX-PRO has a convenient one-touch trigger lock, as well as a new and improved free-flow swivel, which makes maneuvering the gun easier and faster. It also has a built-in filter removal wrench and bucket and ladder hooks.
The RX-PRO features proven Titan-exclusive technologies for durability and extended life. Titan Infinity Packing gives paint contractors double the gun life, making rebuilding as easy as reversing the seat and changing the ball (approximately $15 MSRP). In addition, fluid is isolated from the spring and needle assembly, which reduces wear and increases the life of the gun.
The Titan RX-PRO works with any brand of paint sprayer with maximum pressure ratings of 3,600 PSI. It comes standard with the industry's best performing Titan TR1 tip, and both two- and four-finger triggers.
"Our new RX-PRO airless gun is redefining how spray guns work," said Chris Noto, director of products for Titan. "With an ultra-light trigger pull and ergonomic features, it's packed with new technologies that ultimately increase comfort and profits for paint contractors."