Titan AirCoat Series sprayers
Titan is expanding its line of professional fine finishing sprayers with the introduction of the AirCoat Series.
---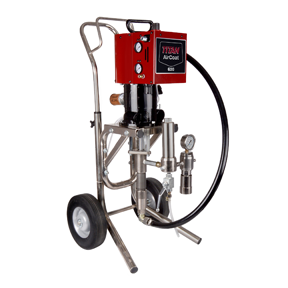 These new air powered, air-assisted airless sprayers provide a consistent, superior finish for virtually all fine finishing applications like cabinets, furniture, doors, trim and small metal finishing.
Working in conjunction with an air compressor, AirCoat Series sprayer systems provide greater control of spray due to lower fluid pressure, enabling the finest atomization, cloudless operation and smooth bubble-free finishes. They will spray solvent and water-based paints, primers, varnishes, polyurethanes, stains and lacquers, slow-setting 2K coatings and UV hardening paints. AirCoat Series sprayers are designed primarily for small- to medium-sized wood and metal finishing shops.
To ensure a flawless finish, Titan includes premium features standard on each AirCoat Series sprayer. This includes stainless steel fluid sections that enable usage of all fine finishing coatings, pulsation dampers that minimize pressure fluctuations, convenient mufflers for lower operating noise levels, and manifold filters. Additional standard features include an air filter, dual regulator, air lubricator, fluid pressure gauge, and two air pressure gauges.
"We understand the importance of a super-fine finish, so we've integrated premium upgrades into each AirCoat Series sprayer," said Chris Noto, director of professional products for Titan. "We're serious about perfection, and we know that woodworkers aretoo."
The Titan AirCoat Series includes two models:
AirCoat 423 – 4-inch air motor; .50 GPM delivery; 2,670 PSI
AirCoat 620 – 6-inch air motor, 1.25 GPM delivery, 2,320 PSI