Tompkins Hydraulic Test Kits
Tompkins' Test Kits are ideal for working in the field, maintaining hydraulic equipment and dealing with on-the-spot emergencies.
---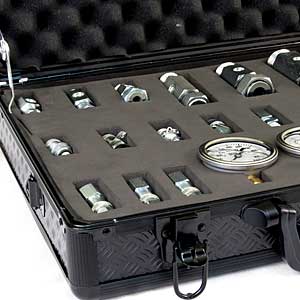 The JIC Kit and O-Ring Face Seal Kit include test points; gauge port fittings; gauge connectors; high- and low-pressure gauges; microbore hose with appropriate fittings. Or create your own custom test kit.
Kits are hand-assembled with custom die-cut foam inserts for a secure, no-rattle fit and come packed in a durable, lightweight, 17" x 13" x 5" case.