Victor 400 Series oxy-fuel torches
Victor has launched its new 400 Series of oxy-fuel torches to meet the needs of a changing North American workforce and end-users globally.
---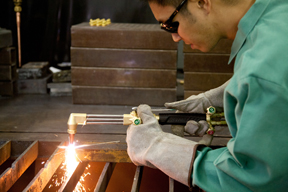 The 400 series is a two-piece torch that incorporates innovative handle and cutting attachment designs that offer better ergonomics, a clearer view of the cutting path, visual cues for easier use and enhanced safety.
The new torch is available in medium- and heavy-duty models and also sold as part of the Medalist 250 and Medalist 350 outfits. Outfits include the torch handle, cutting attachment, welding tip, G Series regulators and hoses.
The 400 Series features a patented contoured handle whose size and shape fits naturally in most operators' hands. The handle uses an engineered zinc-aluminum alloy called Zamak that has three times its tensile strength of brass, so it better resists deformation. The handle is lighter than brass, yet it balances naturally when hoses and attachments are connected.