Vortec Air Knives
Air Knives from Vortec transform ordinary compressed air into a uniform sheet of amplified air that is ideal for blow-off of water and debris, high speed drying or cooling, air curtains, and more.
---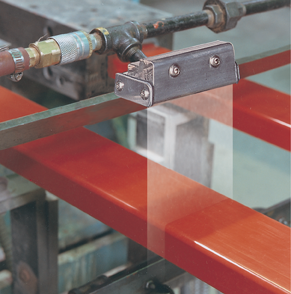 Filtered compressed air flow is amplified 25-times over its input, to deliver a powerful, high velocity sheet of laminar air over wide areas. This proven design produces increased thrust and velocity, reduced noise, instant on/off, and excellent uniformity, making Vortec Air Knives ideal for blow off of wood, laminates, metal sheets, surface cooling of electronics, metal and food products, cooling of molded parts, shrink wrapping, drying printing inks, containment of fumes and more.
Using only filtered compressed air, Vortec Air Knives require no power and have no moving parts, so they are inherently safe. They require no maintenance and feature a 10-year warranty. Interchangeable shims enable the airflow to be adjusted per specific application requirements. They are available in 3, 6, 12, 18 and 24-inch lengths to suit any application. A single, ¼" NPT, compressed air inlet will feed up to a 12-inch length, 2 inlets supplied on longer models. Quiet operation - meets OSHA noise specifications.
Cincinnati-based Vortec is a division of the Fortune 200 firm Illinois Tool Works, and has been recognized as the market leader and innovator of pneumatic products that use compressed air efficiently to solve cooling, cleaning and conveying problems for more than 50 years. In the early 1960's Vortec was the first company to develop technology for converting the vortex tube phenomenon into practical and effective, industrial cooling solutions.