Posted July 10, 2018
Walter Surface Technologies redesigned ICECUT line
Walter Surface Technologies has fully redesigned its ICECUT line of magnetic drilling units and annular cutters.
---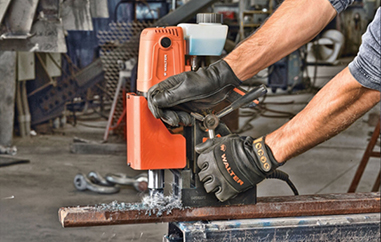 Think ICECUT and think power, versatility and mobility. At 22 lbs. and 27 lbs. respectively, the ICECUT 100 and ICECUT 200 mag drills are lightweight champs that punch above their weight.
Looking for powerful, efficient drilling made safe and easy? ICECUT's ACCUDRILL technology protects against overload, overheating and reduces cutter breakage risk.
ICECUT's ergonomic control panel eases operations with centralized controls that enable efficient drilling on either side of the unit.
ICECUT's mandrel support absorbs vibrations for stability and perfect centering, ensuring the motor and chuck are perfectly aligned. Operators get precise cutting with little chance of cutter damage.
ICECUT's lightweight, ergonomic and smooth-grip handle makes unit positioning and drilling operations easy. The unit also features a separate, quick-release and reversible handle for easy positioning in confined spaces.
"Walter's newly redesigned ICECUT units are mobile, lightweight and powerful enough for any job site," explains Ryan Boyd, product manager, Tooling and Power Tools. "There's a tremendous range of features that guarantee the most productive drilling system, and with our ACCUDRILL pressure guide, there is almost no risk of motor overloading, overheating, or premature cutter breakage."
ICECUT's integrated wiring eliminates obstructions when drilling or repositioning the unit. No wires mean no mishandling failures. "That's convenience," says Boyd.
The drilling unit's steel sliding guard keeps operators safe, too. Engage this safety feature for worry-free drilling, free of errant chips and lubricant splash.
Operators will also appreciate ICECUT's easy maintenance. Direct access to the unit's carbon brushes make tune-ups simple and keep ICECUT's powerful motor operating at maximum power.