Posted July 30, 2018
SURFOX 305 MIG and TIG weld cleaning system
Walter Surface Technologies recently introduced the SURFOX 305, a patented electrochemical MIG and TIG weld cleaning system that is now safer, faster and more user-friendly.
---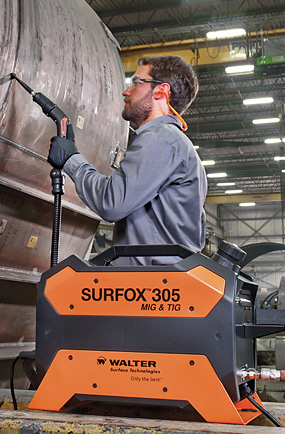 The SURFOX 305 works fast to remove heat tint from the heat-affected zone of MIG, TIG and spot welds on stainless steel and aluminum, making it the most versatile weld cleaning system to date. It cleans the surface without disrupting passivation on stainless steel or altering the surface finish, and its dynamic current control protects the surface against micro-pitting. With an integrated tank and flow-through system, the SURFOX 305 delivers the electrolyte solution directly to the workpiece to minimize the risk of spillage or cross-contamination.
"Resisting corrosion is a natural property of stainless steel due to the presence of the passive chromium oxide layer on the surface, but this layer is compromised from the heat caused by welding," says Jonathan Douville, senior product manager - Surfox, Finishing & Tooling. "Surfox 305 can safely, quickly and effectively remove the heat tints caused by welding to help restore the corrosion resistance of stainless steel."
Designed to streamline weld cleaning operations and minimize downtime, the SURFOX 305 offers unsurpassed ease of use and functionality. Its exclusive quick-change brush system allows users to change out accessories easily, and its brushes are designed to clean large and hard-to-reach areas. Other industry-leading features of the SURFOX 305 include an AC mode for cleaning and marking, a DC mode for polishing and etching, and a built-in vapor dispersion system.
"The SURFOX 305 combines the benefits of easy, efficient MIG, TIG and spot cleaning on stainless steel and aluminum with multiple additional application such as electro polishing, marking and etching," says Douville. "Whether they're operating in small workshops or large production facilities, welders can improve productivity and cleaning results by using the SURFOX 305."