Posted September 18, 2018
Walter Surface Technologies Enduro-Flex ALU flap discs
Walter Surface Technologies has introduced a new abrasive for aluminum blending and finishing, the Enduro-Flex ALU flap disc.
---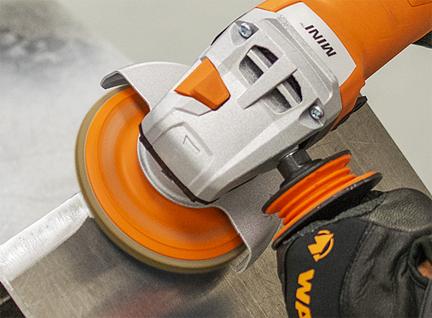 The Enduro-Flex ALU flap disc was developed to overcome the challenges that come with working with heat-sensitive metals such as aluminum and other non-ferrous alloys. Aluminum's high strength-to-weight ratio has long made it a smart choice due to the alloy's lightweight properties, corrosion-resistance and other practical benefits. Yet, when it comes to blending and finishing, there's a different story for metalworkers on the shop floor.
Enduro-Flex ALU flap discs are specially formulated to maximize performance and drive productivity. Iron-free, sulfur-free and chlorine-free, Enduro-Flex ALU's superior zirconia alumina grain blend optimizes blending and finishing performance on virtually any aluminum surface. Backed by the highest removal rate in the industry and superior performance on non-ferrous alloys and heat-sensitive metals, Enduro-Flex ALU will deliver a consistent finish without discoloration every time.
Enduro-Flex ALU's special coating prevents load-up and glazing – key features that extend disc life and help cut shop-floor costs. Metalworkers will also appreciate Walter's proprietary Eco-Trim™ trimmable backing, which can triple disc life for even greater savings.
"The science and deep industry knowledge behind Enduro-Flex ALU flap discs is exceptional, and has all of the key features as the industry-leading Enduro-Flex flap disc," explains Jonathan Douville, senior product manager - Surfox, Finishing & Tooling. "Outstanding removal rates, longevity and resistance to glaze build-up make Enduro-Flex ALU the optimal choice for enhanced quality, safety and productivity when working with aluminum."
Industry-optimized, Enduro-Flex ALU flap discs offer versatility and outstanding performance in automotive, aerospace, naval and other sector-specific applications.
"Enduro-Flex ALU is simply a high-performance, long-lasting and productivity-enhancing flap disc," says Douville. "It's the ultimate blending and finishing tool that helps our customers work better.
Enduro-Flex ALU discs are available in 4 1/2", 5", 6" and 7" diameter sizes with grit values of 40, 60 and 80. RPM ratings range from 8,600 to 13,300. Spend more time getting the job done and less time making trips to the tool crib with Enduro-Flex ALU™ – the longest lasting flap disc in the industry that removes more material than any competitive flap disc.