Posted May 16, 2017
Walter Surface Technologies Take Home a Mustange GT contest
Walter Surface Technologies announced the launch of its "Test Drive Flexsteel, Take Home a Mustang GT" contest.
---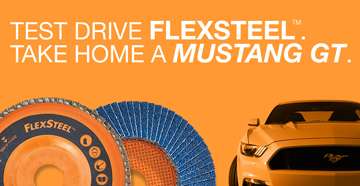 Customers in the United States and Canada who purchase a specially-marked 10-pack of Flexsteel flap discs will find a promo code inside and will have the opportunity to enter at www.walter.com/flexsteelcontest to be eligible to win the grand prize, a 2018 Ford Mustang GT, or 75 other prizes.
As the newest addition to Walter's family of trimmable flap discs, Flexsteel features a unique zirconia abrasive grain that self-sharpens with less pressure than ordinary flap discs. This means Flexsteel won't bog down the grinder or glaze under heavy load. In turn, it helps improve on-the-job productivity and achieve better results.
"Flexsteel is absolutely worth a test drive," asserted Dan Pirro, vice-president, marketing at Walter Surface Technologies. Flexsteel flap discs offer fast removal rate on steel, and the trimmable backing pad extends disc life. The product performs exceptionally well in metal fabrication, construction, and MRO applications.
"The association with the Mustang GT is a natural fit," said Pirro. "Like the iconic Mustang, Flexsteel is a best-in-class product that will positively surprise. We want metalworking professionals to test the product in their facilities so they can experience the speed, power, and performance for themselves. And they might just take home a beautiful new 2018 Mustang GT!"