Posted June 28, 2017
Walter Surface Technologies Xcavator
Walter Surface Technologies introduced the Xcavator with Comfort Max Technology, a grinding wheel that reduces grinding time while increasing operator comfort and overall plant productivity in industrial metalworking applications.
---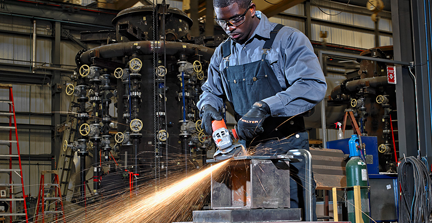 By incorporating Comfort Max Technology at the hub of the wheel, it helps minimize vibration, and provides operators with more comfortable, ergonomic working conditions, without sacrificing performance and safety.
"Grinding is one of the toughest, most demanding tasks in the metalworking industry because of the excessive noise, dust, and vibration," explained Marc Brunet-Gagné, product manager of bonded abrasives at Walter Surface Technologies. ""With Comfort Max Technology, the new Xcavator reduces operating vibrations by up to 15% when compared to its predecessor. This allows for a smoother, more comfortable grinding experience, which helps to reduce fatigue and vibration-induced pain in the hands and arms of the operator - all without sacrificing performance."
Tested on some of the world's hardest metals – including tungsten carbide and tempered steel, the Xcavator with Comfort Max Technology helps ensure optimal power transfer from operator to working surface. It also features Walter's patented UHR (ultra-high removal) multi-layer manufacturing technology to prevent edge flaking – keeping the wheel symmetrically round for added safety and longer life.
Ideal for use on steel and stainless steel, Xcavator with Comfort Max Technology is free of materials such as iron, sulfur and chlorine.