Three new parting and grooving geometries from Walter
Walter has introduced three new insert geometries that produce superior results in parting and grooving operations.
---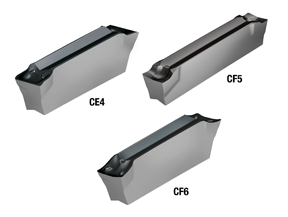 Walter's CE4 geometry for medium to high feed rates features a tough cutting edge and good chip compression; the universal CF5 geometry for long-chipping materials and medium feed rates; and the CF6 geometry for low feed rates, non-ferrous metals, small diameters or thin-walled tubes.
All three geometries feature Walter's Tiger•tec Silver CVD coating technology which increases toughness and decreases machining time with optimized microstructure and resistance to thermal stress. They can be supplied in insert widths from 1.5 to 6.0 mm and are currently available in the WSM33S and WSM43S cutting materials. This combination of factors enables the new geometries to produce superior chip formation and burr resistance, improved process reliability and cycle times, and an overall boost in price/performance ratio.
Walter offers an extensive line up of cutting tools for milling, drilling, turning, boring and specialized tooling for unique applications through its competence brands Walter Valenite, Walter Titex and Walter Prototyp. As well as multi-level service programs through its Walter Multiply brand. Headquartered in Waukesha, Wisconsin the company has a strong network of distributors and field engineers across their subsidiaries in the USA, Canada, Mexico, Brazil and Argentina. The Walter name is synonymous with productivity, thanks to more than 90 years of developing cutting tools and inserts that set new standards in quality, innovation and production.