Posted July 19, 2022
Walter Precision Boring XT tools
Walter has extended its line of precision boring tools with new members of the Walter Precision Boring XT family:
---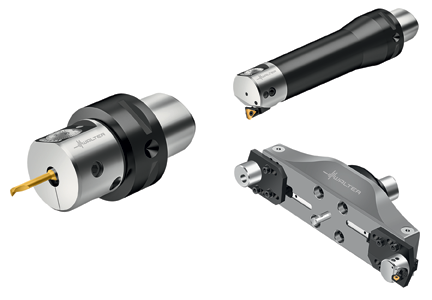 The Walter Precision XT B5110, B5115, B5120, and B5125. The B5110 is ideal for fine boring of small diameters. It uses either a solid carbide boring bar option for diameters of 0.039-0.323 in (1-8.2 mm) or an indexable insert boring bar design for diameters 0.315-0.787 (8-20 mm).The B5115 is designed for precision boring of medium range diameters of 0.748-6.575 in. (19-167 mm). Unlike the B5110 which uses the boring bar design, the B5115 utilizes the cartridge style design, as larger space is available for the tool design to accommodate the cartridges.
The B5120, with diameters of 5.827-25.00 in. (148-625 mm) expertly covers the large diameters with its bridge and cartridge design. The bridges are made of aluminum to accommodate the weight constraints of machine tool spindles. A separate line of "reduced weight" boring bars in medium range diameters is also offered through B5125-LWS. The LWS stands for "Light Weight Selection." The B5125 uses the same cartridges as the B5115 and B5120 thus reducing cost through modular use of cartridges across the systems. The precision dial for all the new systems boasts a dual inch/metric unit dial thus not requiring separate tools for global customers that work with dual unit systems.
These new vibration-free tools provide finish machining of precise bores (IT6–IT8) up to 6 × D, with high surface quality and are up to three times more reliable and flexible than comparable models. Their flexibility is boosted by the fact that the new Walter boring tools employ modular components such as cartridge holders and extensions, which are matched to the system, utilize an extensive range of indexable inserts suited for precision boring, and can be used for all material groups. These XT System boring tools are available in Capto connection as well as Walter proprietary NCT and screw-fit adaptions.
There is internal coolant supply up to the cutting edge, and cartridges
for CC and TC indexable inserts adapted for precision boring. The tools include an option for reverse machining (reverse boring) and are suitable for general metalworking, production of precision parts, and mold and die making.