Posted July 24, 2018
Walter HIPIMS PVD WM01
Walter has introduced WSM01, a premier grade for demanding machining applications.
---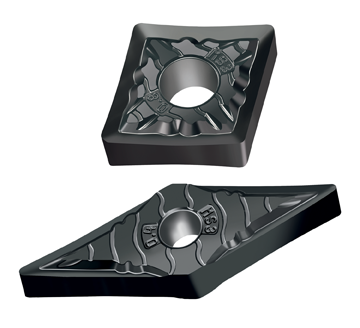 Coupled with Walter's new MS3 negative geometry it produces burr-free results with high surface finish quality in the hardest materials. The WSM01 difference stems from its HIPIMS PVD coating method. Unlike standard PVD coating which deposits discrete droplets upon the target surface, HiPIMS (High Power Impulse Magnetron Sputtering) PVD coating produces extremely smooth surfaces leading to reduced friction in machining. The new coating is characterized by an excellent layer bonding and thickness distribution, reducing the tendency of 'flaking.' Extra smooth surface of the coating and extremely sharp cutting edges keep edge build-up to a minimum and ensure high surface finish quality.
This new insert is particularly suitable for machining unstable or thin-walled components. The MS3 insert is equipped with jet-guiding geometry to ensure optimum cooling directly on the cutting edge and is particularly well-suited to copy-turning applications and medium machining applications in aerospace, automotive and general metalworking industries.
The combination of the WSM01 grade's HiPIMS PVD hard layer and the new MS3 geometry is ideal for machining ISO S materials with difficult cutting properties such as high temperature alloys, titanium alloys, cobalt-based alloys, and nickel-based alloys such as Inconel 718. A secondary application of this new grade is with ISO material groups M (stainless steels), N (non-ferrous alloys such as aluminum and P (steels).