Walter Xpress rapid design and delivery service expanded
Walter has expanded its Walter Xpress rapid design and delivery service with the addition of indexable insert tools for drilling, counterboring or precision boring tools.
---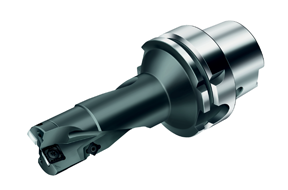 Here's how it works: First, the user tells Walter about their machining requirement. Walter experts then enter the customer-specific parameters into Walter's configuration system. For drilling and boring tools, the variable parameters include the diameter, a maximum number of three steps, step lengths and the chamfer angles. Additional details include relevant cutting tool material options, the appropriate insert shapes, machine features such as the retaining system, and cooling.
The system then designs the required tool and outputs comprehensive documentation, including a 3D model. The customer receives their quote within 24 hours. In the background, the bill of materials, work schedule and NC manufacturing programs are created -- all the data needed to begin manufacturing the tool so production can start the moment an order is placed.
Once an order is placed, delivery time is a mere three weeks. This is in striking contrast to the industry standard of one to two weeks for quotations, with tool production taking between six and eight weeks. Plus, thanks to the extensive documentation generated by Walter Xpress, the customer can begin production immediately upon receipt of the tool, avoiding long and costly delays.
For drilling applications, Walter Xpress specials are based upon the tried and tested Xtra•tec point drills and Xtra•tec® insert drills. The point-drill covers the diameter range of 0.047 to 1.26 in. (12 to 32 mm). For the insert drill, it is 0.65 to 2.32 in. (16.5 to 59 mm). Solutions for counterboring and precision boring can be supplied with fixed insert seats or cartridges and have a diameter range of 0.64 to 7.87 in. (16.5 to 200 mm). There are different options for cartridges and all tools can be designed up to drilling depths of 5xD. The available ISO insert shapes are C, S, M and T and all popular spindles are offered: Parallel shank, HSK, SK, NCT, Capto, Catshank and ScrewFit.