Walter Surface Technologies upgrades Quick-Step line
Walter Surface Technologies introduced three new solutions to its QUICK-STEP line of surface finishing and polishing products.
---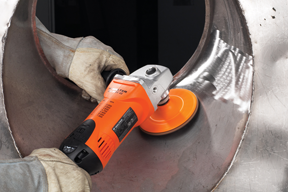 The QUICK-STEP Finisher, QUICK-STEP Blendex, and QUICK-STEP Flex products are the latest additions to the Walter QUICK-STEP family. Featuring patented Velcro support – with a central pin to ensure proper placement and safety – the new time-saving products are designed as the industry standard for finishing ultra-clean stainless steel surfaces in industries such as food prep, nuclear, pharmaceutical, construction and others.
The QUICK-STEP Finisher tool is compact, lightweight and ideal for sanding, finishing and polishing tasks. Featuring an extra-large gear and easily adjustable DYNAMAX electronic speed control, QUICK-STEP Finisher has an up-to-date motor design with plenty of torque even at lower speeds.
The newly updated QUICK-STEP Blendex surface conditioning discs feature more consistent performance and double the disc life. The result of more than two years of Walter research and development, the new QUICK-STEP Blendex is designed to be the best conditioning discs on the market today.
The flexible new QUICK-STEP Flex finishing disc is designed to fit all sanding applications with the advantages of a flap disc. It offers surface finishing and a high removal rate of grinding and finishing welds.