Posted May 29, 2018
Weego portable jump starter
Weego introduced Weego 66, a 12V lithium-ionjump starting power pack built for professionals.
---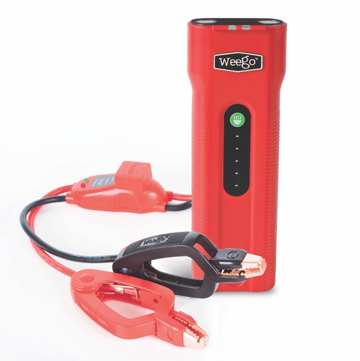 The most significant update to jump starter technology in over 40 years, Weego 66 sets a new standard for compact versatility, delivering the power needed to get cars, trucks, tractors, boats and light-duty equipment moving again. Weighing only 2.5 pounds, Weego 66 is an incredibly practical and convenient solution for any jobsite and any professional on land or sea.
The four-in-one Weego 66 made for 12V gas and diesel engine systems, jump starts with 2500 peak amps and 600 cranking amps; is capable of bringing phones, tablets, laptops or other mobile devices back to life via 5V USB and 19V outputs; powers 12V portable accessories; and provides ultra-bright lighting functionality with a 600-lumen dual LED flashlight.
"The downside of jump starting products for the pro is their size and weight, inability to hold a charge over an extended period, relatively short lifespan, lack of safety features and almost complete lack of versatility," said Gerry Toscani, CEO of Weego. "Following years of listening to our customers and intensive field testing, Weego has designed and engineered the 66 right here in the USA to be a real all-in-one workhorse."
Weego 66 comes with Smarty Clamps jump starter clamps that incorporate lights and sounds to guide users through the jumping process, and feature built-in anti-spark, reverse polarity, overheat and power surge protections. The tapered tips fit in tight spaces and the clamps open extra wide and are powered on both sides to ensure good connections.