Weiler Tiger Ceramic
Weiler Abrasives Group announced the addition of Tiger Ceramic to its portfolio of bonded abrasive solutions.
---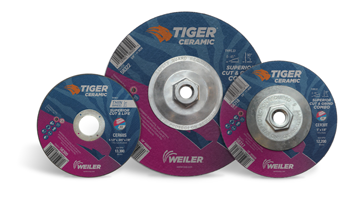 Tiger Ceramic is a maximum performance line of cutting, grinding and combination wheels that delivers a superior combination of product life and cut rate — to help users maximize time on the job in a wide range of metal fabrication applications.
The durability of Tiger Ceramic means more cuts and more material removed over the life of the wheel. In validated end user testing, Tiger Ceramic provided 25 to 40 percent longer life compared to other ceramic solutions on the market.
"Tiger Ceramic solutions effortlessly remove material while a hard bond keeps working longer, for unmatched product life," said Rick Hopkins, senior product manager–Metal Fabrication, Weiler Abrasives Group. "For anyone that puts a premium value on getting work done faster and optimizing wheel usage, Tiger Ceramic delivers."
Ceramic grains utilize a crystalline structure designed with millions of fracture points that self-sharpen at a higher rate than other grains. The result is a higher material removal rate, faster cutting speeds, cooler grinding and reduced friction at less pressure, which reduces operator fatigue. Lower temperature and less friction also reduces heat discoloration of the work piece, and translate to a smoother cut and less kickback during operation of cutting wheels.
With longer product life, a reduction in downtime for wheel changeover, and cut rate and performance that help get jobs done faster, Tiger Ceramic helps provide an overall lower cost of use.
Available in Type 1 and Type 27 styles, Tiger Ceramic is a contaminant-free and worry-free solution that can be used on stainless steel, Inconel, high nickel alloy, titanium and armored steel.