Weiler releases 2016 full-line catalog
Weiler Abrasives Group has released its new Full-Line Catalog.
---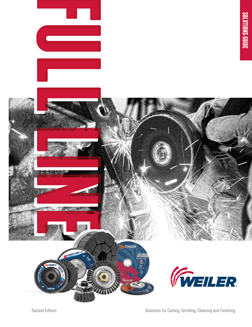 "At Weiler, we work with customers to find the best possible solutions and provide superior performance," said Nate Schmid, director of marketing, Weiler Abrasives Group. "Our new full-line catalog is just another resource to help our customers get the job done – whether they're welding and fabricating, keeping their facility running at peak performance, or solving complex production challenges."
The 180-page catalog is available in print and digital versions, and contains product information for Weiler's full line of welding and fabrication, industrial production and MRO solutions.
The search function in the digital version of the catalog allows users to find the ideal solution quickly and easily. The catalog features a quick reference product selection guide, and both alphabetical and item number indexes. Users can link to weilercorp.com or the Weiler YouTube channel from the catalog for more detailed information.