Weiler Abrasive Flap Disc Selection Guide
Weiler Corporation updated its Grinding and Finishing Solutions Guide, now called the Abrasive Flap Disc Selection Guide.
---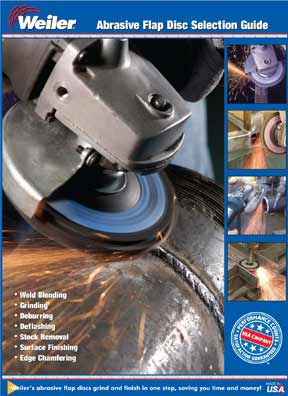 The new guide includes a comprehensive explanation of Weiler's three performance levels of flap discs – Premium Performance, High Performance and Fast Cut. The guide showcases Weiler's comprehensive product line and provides a user friendly reference for Grinding and Finishing Solutions.
The guide also contains selection criteria for choosing the right abrasive flap disc type, backing type and grain type to meet each user's specific need. For customers that demand custom-effective solutions, Weiler offers innovative engineered solutions for its entire line of abrasives.
Weiler's "Premium Performance" line includes:
Saber Tooth flap discs, which feature premium polyester cloth that utilizes split grain coat technology with 100% ceramic grain cutting action and a "Bright Red" top coat to provide cool, fast cutting action on aluminum, stainless steel, Inconel, titanium, armored steel and other hard-to-grind metals.
BigCat high density flap discs, which have 25-30% more cloth than other leading brands, give this disc increased conformability on curved and irregular surfaces and dramatically extending the disc life.
Weiler Tiger Discs, available in three different back styles - aluminum, which is the strongest back in the industry, and ideal for jobs requiring less flex for more control; phenolic, which provides a high cut rate and long life; and the trimmable Tiger Disc, which is equipped with a unique composite backing that can be trimmed for increased flexibility and long life.
BobCat mini flap discs, which allow the user access to confined work spaces and are used with air and electric right angle die grinders. This flap discs outlast blending discs 19 to 1!
Weiler's "High Performance" flap discs:
Tiger Paw, Weiler's latest addition to their flap disc line. is manufactured to maximize performance on heavy-duty edge grinding applications. The Tiger Paw's 100% zirconium grain, poly-cotton cloth and superior grain retention ensure long life and a consistent material removal rate in addition to increased production throughput and lower overall grinding costs.
Weiler's "Fast Cut" flap discs:
Weiler's Vortec Pro line of flap discs is designed for high cut rate with a value price - an economical choice for low volume production shops and the professional contractor.