Posted August 29, 2016
Weiler expands bonded abrasives offering
Weiler Abrasives Group announced the expansion of its Tiger bonded abrasives offering.
---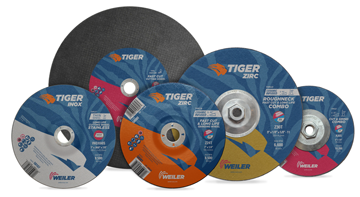 The expanded line of products, manufactured in the company's state-of-the-art Slovenian facility, provides users with a wider breadth of solutions for their most demanding grinding and cutting needs. Each product is designed to provide welding and fabrication professionals the best solution to get their toughest jobs done right, and done fast.
The expanded bonded abrasives offering includes Weiler's new Roughneck® combo wheels, ceramic-infused wheels for fast grinding and extended life. The combo wheels are designed to switch between cutting and grinding pipeline applications, lessening the need for additional abrasives, and are thicker than the company's current Roughneck Pipeliner wheels, which are designed specifically for notching and facing.
Weiler has also introduced two new Type 28 grinding wheels. Ideal for hard-to-reach areas, such as corners and fillets, the wheels feature a saucer-shape design that allows for aggressive grinding at lower angles — 0 to 45 degrees — and with less interference. The Tiger zirc grinding wheels leverage a self-sharpening Zirconia Alumina grain, along with a ceramic infusion to boost performance, while the Tiger grinding wheels feature premium Aluminum Oxide grains for an even, sharp and clean cut. A hard bond on the Tiger grinding wheels further extends product life and maximizes performance. Both types of wheels are available in 7- and 9-inch diameters.
In addition, Weiler now offers 6- and 9-inch grinding and combo wheels across all Tiger tiers, providing users greater flexibility and efficiency when switching between cutting and grinding applications. It has also included a faster cutting 14-inch chop saw wheel in its expanded offering, which contains Aluminum Oxide grains for cleaner cuts, as well as a softer bond for faster cutting.
7-inch thin Tiger Inox cutting wheels (Type 1 and Type 27) round out the expanded offering. These wheels deliver accurate, clean cuts, and along with the entire Tiger Inox line, incorporate a contaminant-free bond that provides a worry-free solution for stainless steel applications.