Wells Lamont ANSI cut level 5 palm dip glove
Wells Lamont Industrial introduced its first-ever ANSI cut level 5 palm dip glove with the FlexTech Y9216.
---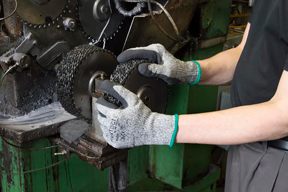 With nearly 38% of time-off injuries coming from cut and lacerations, the Y9216 offers superior protection in industries such as metal fabrication, metal handling, metal stamping, automotive manufacturing, recycling & salvage and HVAC, where cuts are common. In addition, to its high cut resistance, the Y9216 maintains a high level of dexterity and comfort. The palm is dipped in a sandy nitrile coating for improved grip in oily applications. The shell is made from a unique blend of high performance fibers and stainless steel to further ensure a cooler, safer and more comfortable glove compared to competitive solutions.
"With hand injuries, especially cuts, being the #1 safety problem in many manufacturing environments, we knew we needed to make a glove that solved that challenge but maintained our standards for quality," says Kim O'Leary, Director of Marketing, Wells Lamont Industrial. "The Y9216 provided just that- high cut resistance with the added benefit of being a very flexible glove. Users can go from dry, wet or oily conditions to working on small parts without concern."
In addition the back of the glove is uncoated to help circulate air and allow hands to breathe and stay cool. Extending the total cost of ownership, the Y9216 can also be repeatedly laundered. It is available in sizes ranging from XS-XXL and sold by the dozen pair.
"There are not many solutions in the marketplace that offer all the combined benefits available in the Y9216," says O'Leary. "Anyone looking for greater hand protection should certainly give them a try."