Posted November 29, 2016
Werner Personal SRL devices
WernerCo announced the release of an expanded portfolio of Self Retracting Lifelines (SRLs), including the compact retractable Bantam6.
---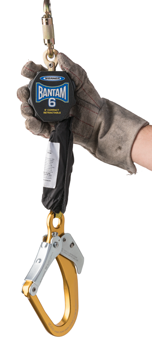 Personal SRL devices are the fastest growing product segment in the fall protection industry. The clear benefit of an SRL—in comparison to a lanyard—is the ability to reduce the fall distance by up to 5.5 feet. An SRL is ultimately a better choice because it results in a shorter free fall for the user, therefore decreasing impact and chance of injury.
"At WernerCo, we continually develop and test new products that enhance functionality and productivity to create the safest and most efficient work environment," said Eric Miller, Senior Product Manager at WernerCo. "The new Bantam6 SRL product line meets stringent safety requirements and expands our offering to include personal SRL options for lower heights, which is significant since a fall from a 1-story building can cause serious injuries."
Bantam6 Product Benefits
The Bantam6 SRL family provides a unique solution meeting Class A Safety Standards in performance testing. These new SRLs extend and retract automatically during typical use so they won't get in the way of the job ensuring maximum productivity and safety at the same time. Its brake mechanism activates immediately in the event of a fall, reducing fall distance and impact to the body.
The Bantam6 SRLs are compact and lightweight at less than 2.5 lbs, making it easy to transport to and from the jobsite. Available with a steel or aluminum hook, the Bantam SRL line features 310 lb. rated capacity and durable 1" Dyneema™ webbing to ensure the SRL is in excellent working condition for each use.