Posted July 22, 2020
Wooster Products counter display
Wooster Products introduces a new display unit to showcase their FlexTred Anti-Slip Safety Tape.
---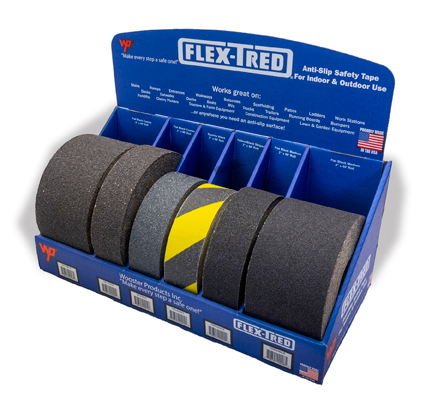 Constructed of heavy cardboard for years of use, this attractive and informative heavy-duty shelf display includes five 60-foot rolls of FlexTred in varying widths and grit levels to demonstrate the numerous options available. Rolls can be sold from the display, and re-stocked individually, or extras can be kept in stock and sold from inventory. Tape can also be sold by the foot or the roll, generating additional "impulse" sales. FlexTred is a fast and easy way to prevent slip & fall accidents, and is ideal for use on stairs, ramps, construction equipment, ladders, cherry pickers, and other material handling equipment, trucks and trailers, work stations, land and garden equipment, scaffolding, bumpers, or wherever people have to climb over, across or onto equipment.
Available in various widths and grit levels, FlexTred is made in the USA, and exceeds OSHA, ADA and ASTM standards. In addition to the black and yellow/black striped product shown, FlexTred is available in various colors including NITEGLOW glow in the dark. Standard and custom die cut shapes and sizes also available.