Posted August 10, 2016
Worx disposable gloves
Worx Gloves has expanded its industrial glove line with two new thick durable disposable gloves for the toughest work environments.
---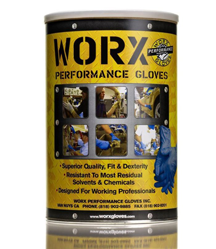 WORX disposable Nitrile gloves set a whole new standard in durability and chemical protection.
"Our new 8 mil powder-free 10-inch nitrile glove is twice as thick and puncture resistant as standard nitrile gloves. Worx gloves are for jobs that require the highest durability and long lasting comfort. They are rugged, and built to last, providing twice the life of other gloves in the category," the company said in a press release.
Worx also offers a 14 mil nitrile powder-free glove with a 12-inch cuff. Formulated with 100 percent synthetic nitrile and latex free, the gloves are chemical- and puncture-resistant. They come 100 gloves per box and are available in four sizes.