Walter Abrasives Selector app
Walter Surface Technologies launched the new Walter Abrasives Selector app available for all iOS and Android smartphones.
---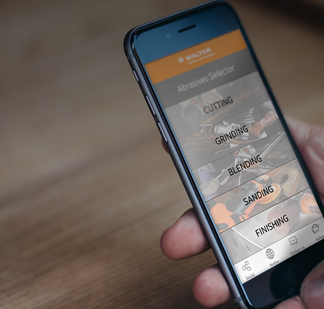 The free app is designed to help metalworking professionals select the optimum abrasive solution for any possible application they may encounter.
"We're an innovation leader in our industry, bringing to market cutting-edge product design and engineering," said Dan Pirro, Vice President of Marketing for Walter Surface Technologies. "Our new abrasives selector app will help our customers work more efficiently by putting technical knowledge and practical know-how right on a workers smartphone"
Walter Abrasives Selector app highlights:
Designed specifically for metalworking professionals, get the best results in your grinding, cutting and finishing applications by using the optimal abrasive and process based on specific job parameters.
The simple user interface makes the app easy to use. Select the operation (finishing, sanding, cutting, grinding or blending), specify your tool of choice, and select the desired finish.
Access technical reference data easily, including safety data sheets, training videos, and Walter product information. Save and email your configurations for future reference, or for ordering.
Download the app contest
Users can enter to win one of three $150 prepaid Visa gift cards after downloading the App.
1. Download the app
2. Click "Contact Us" on the bottom of the home screen
3. Email info@walter.com and keep the default mail subject heading
4. Provide your contact information and promotional code "0101" in the body of the email
The contest will run from February 9 to March 11, 2016, with the draw taking place on March 14.
The Walter Abrasives Selector app is available now on the Apple App Store (iOS 7.1 or later) or Google Play Store (Android 4.2 or later).