Made-in-the-USA screwdriver line
Mayhew Steel Products, Inc. (Mayhew Tools) introduces a new line of screwdrivers made entirely in the U.S. The line, with products sold both individually and in sets, includes over 100 SKUs for many applications.
---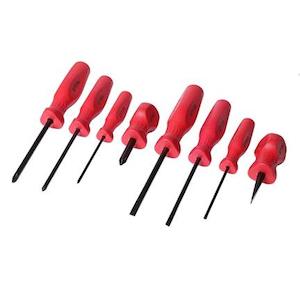 The line includes features such as ergonomic acetate tri-lobular handles for maximum strength and torque transfer, ribbed necks for fingertip control and a non-slip grip, and a durable black oxide finish for corrosion resistance. The line's micro screwdrivers set features an ergonomic square handle for a comfortable and secure grip and are comprised of Nylon 6 for high tensile strength and abrasion resistance.
All blades are manufactured using tempered high alloy steel; the custom heat-treat and temper process produces the perfect combination of hardness and ductility to achieve the strength, durability, and performance that professionals demand and appreciate. Each tip is precision CNC machined to industry specifications with tight tolerances for secure and reliable fastener engagement. They are concentric, true, and straight with minimal run-out. All tools in the line exceed ANSI, ASME, and government standards (GGG, ISO).
Over 100 individual screwdrives and multiple sets are available including:
4-piece Micro Slotted & Phillips Set

4-piece Micro Torx Set

8-piece Slotted & Phillips

6-piece PC Long Slotted & Phillips

7-pieceTorx Set

Slotted

Phillips

Torx

Torx Tamper Resistant

Square Recess

Torq-Set
View the full catalog for this new made in the USA screwdriver line here.