Posted January 30, 2023
3868 Carbide Triple Set TSX Blade from Bahco
The 3868 Carbide Triple Set TSX bandsaw blade from Bahco is engineered to be versatile in cutting materials well on both vertical and horizontal bandsaw machines.
---
The 3868 Carbide Triple Set is a triple set tooth design blade with a positive 10° rake angle, which is ideal for providing smooth, high-efficiency precise cuts on titanium and other difficult and abrasive materials. The advantage of a set blade is that it is much more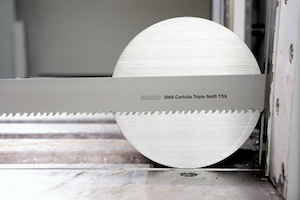 forgiving in less stable machines compared to unset blades.
The 3868 Carbide Triple Set is versatile to run on both horizontal and vertical bandsaw machines to increase productivity while reducing users' cost per cut. The grind of the carbide set tooth design helps the 3868 Carbide Triple Set reduce vibration, especially on vertical cutting applications that tend to produce added vibration.
Features and benefits of the 3868 Carbide Triple Set TSX bandsaw blade from Bahco include:
Exact same blade as Bahco's Triple Set Stainless (TSS), except not honed, making it perfect for applications where a sharp blade is needed
Triple set tooth design has good kerf clearance to help eliminate tooth loss
Perfect for cutting, titanium alloys, graphite alloy, aluminum with high silicon or matrix alloys
Strong set pattern for good swarf clearance and longer tool life
Provides clearance for good chip removal
Greatly improved blade life