Posted December 2, 2022
Easy-to source, protective Brass Knuckle gloves
Hand and finger injuries send over a million workers to the emergency room annually in the U.S. That's why Brass Knuckle offers a complete line of gloves for maximum protection along with comfort and dexterity — and the company strives to make specifying gloves easier with robust selection tools that simplify the choosing process.
---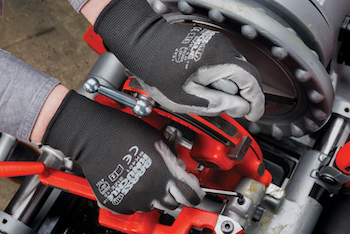 In its effort to help make gloves fit better, Brass Knuckle emphasizes construction of the glove. Its gloves are tested and measured against: longer wear life, maximum dexterity, defined flex points, plus a wide range of protective features. Application-specific glove construction is critical. Brass Knuckle leads in understanding fibers, coatings, special features, and other material construction attributes that blend protection and value.
Brass Knuckle offers three signature, application-specific glove lines, with multiple gradient options within each line. SmartCut gloves are cut-resistant from ANSI cut 2 through 5 and from 12 through 18 gauge. The cut lineup includes the company's SmartShell glove, a favorite for impact protection. SmartSkin gloves keep hands dry from nasty and sometimes dangerous liquid hazards without compromising comfort.
SmartFlex are superior general purpose gloves with construction that delivers unparalleled comfort. With long-lasting comfort comes increased compliance – that's the thought behind the Brass Knuckle's SmartFlex 400 Series hand protection. Three gloves, each designed with a 13-gauge nylon shell offering abrasion resistance, uncoated back and wrist to encourage all-day wear, and ultra-thin polyurethane coating on the palm and finger area for an amazingly sensitive gripping surface. Every glove in the 400 Series enables accurate handling of even the smallest of parts, whether in dry or light oil applications.
These thin-gauge general purpose gloves are ideal for everything from electronics repair to small parts assembly. The SmartFlex 400 Series combines outstanding dexterity, lightweight comfort, and protection from injury. BK401 is black nylon with gray coating to conceal dirt and grime. BK402 is white-on-white, making it easy to identify foreign particles on the glove, ideal for inspectors and quality control. BK403 is black nylon with a black coating, a tough-looking concealer for grimy projects. Each model is available in seven different sizes with color-coded cuffs to simplify re-issuance.
Each glove in the 400 series is carefully constructed, designed for fit, but they're also cost-competitive. The gloves are ideal for many applications not requiring cut-level protection, from automotive to warehouse to light construction and assembly. Designed for maximum comfort and ease of use for all-day wear, the 400 Series offers protection and helps increase wearer compliance. Workers will never feel like they have to take these gloves off.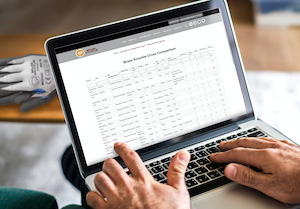 CleanHand disposable gloves are also available.
Brass Knuckle provides two ways to find the perfect glove. An exclusive interactive tool allows you to choose gloves by type, gauge, shell, and coating. Or, use the Hand Protection Product Selector Guide and see the full line of Brass Knuckle gloves at a glance, with 15 individual characteristics that define each glove.
www.brassknuckleprotection.com