Posted December 20, 2022
Dynabrade random orbital sander for small areas
Working on a small area can be tough, especially if you don't have the right tools. Dynabrade is introducing a new random orbital sander to the Dynorbital Extreme Series – the 1¼" diameter Mini-Dynorbital Extreme sander – to solve this problem.
---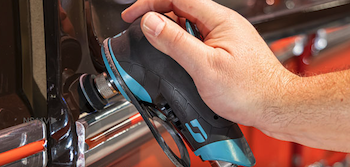 Vehicle hoods, fenders and doors, side-view mirrors, motorcycle parts, spoilers, and other areas where precision is needed, the new Mini-Dynorbital Extreme is the tool for the job. Collision shops, fabricators, restoration and refinish crews, and woodworkers all can benefit from the compact, ambidextrous design that fits naturally in most hands.
The ultra-lightweight helps to reduce fatigue and the likelihood of repetitive motion injuries during extended use. An integrated speed control allows for fine adjustment of RPM for sensitive work pieces, artistic results, or when sanding/repairing a coated surface. This new random orbital sander also boasts a very low air flow requirement of only 5 SCFM.
The tool hanger bracket that comes with this sander makes it extremely easy for you to store it or keep in a place that is easy to reach while working. The 54307, vinyl-face locking-type pad, is standard for quick and easy pad changes.
Dynabrade has a two-step polishing system and the X125TR helps get the perfect finish. If you polish, buff, or denib often, this tool was made for you.